Chloe Rain On How To Recognize The Medicine That Will Heal Your Life
Learn how to recognize the medicine that is meant to be for you and more from our special guest, visionary and spiritual guide Chloe Rain.
Chloe is helping individuals learn to source their inner power so they may answer their own unique calling. She is a certified Stone Walker of the living tradition of Inyan Pejuta, a Santee Sioux Native American Healing Art; she has also received spiritual initiation in the Andean Energy Medicine.
In this episode, Chloe shares:
Her heartfelt response to the fundamental question: Who am I?

How to tell what is your divinely sent medicine.

Valuable ancient wisdom pertaining to her personal Native American practice.

About healing with indigenous medicine.

The story of how she found unexpectedly her medicine in the sacred land of Cusco-Peru and how it transformed her life.
Book recommended on this episode:
"Journey of Souls - Case Studies of Life Between Lives" by Michael Newton.
"We went into all things technology, and that's benefited us in a lot of ways except what got sacrificed was our natural connection to the rhythms and the natural way of being and living here on planet earth as human beings and that's why so many people are feeling THAT call to reconnect with the ancient energies…
with the ancestors, to experience the healing benefits of plant medicine, being on sacred land."
~CHLOE RAIN
Featured Guest on DivineEssence - Season 1, Episode 5
HOW TO CONNECT WITH Q'ORIANKA:
>> Ready to heal, transform your life and become the woman on her divine essence you were born to be? Choose one of the available time slots on my agenda to have a consultation with me.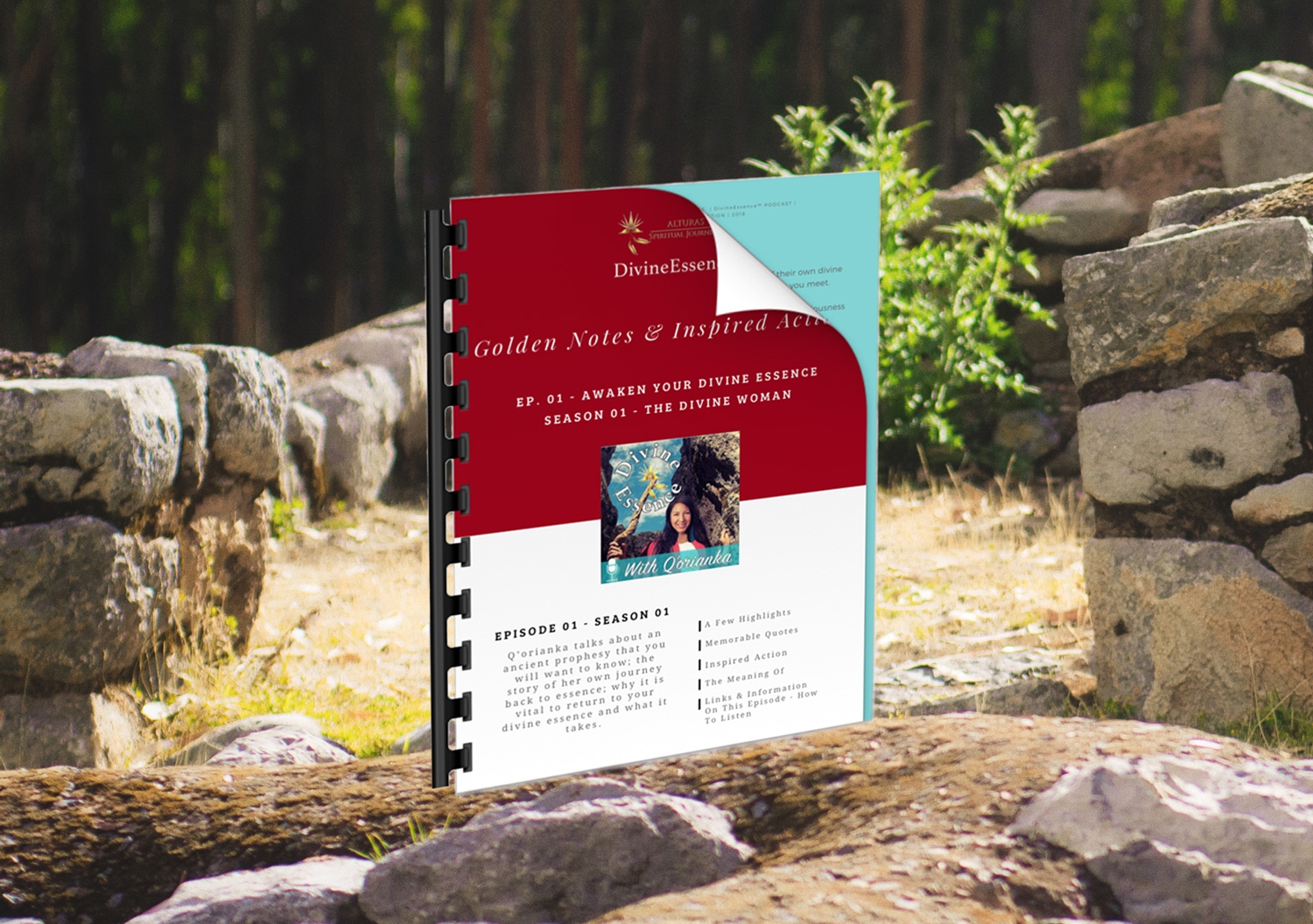 Sign up to join our community and access the featured DivineEssence PODCAST episode's "Golden Notes & Inspired Action".
Q'orianka is an Inca High Priestess and Sacred Transformational Guide who works with awakening women to heal their lives, rediscover their divine essence and step into their sacred destiny.
She comes from an ancient healing tradition of the Inca lineage in deep connection with Pachamama and spirits of nature.
Q'orianka midwifes women's rebirth into a new life through high ceremony based upon traditional Inca and Amazonian plant medicine. She continues with the thousands of years old legacy of her ancestors in her work now as a priestess.
For more information about Q'orianka's work visit the Alturas Spiritual Journeys Home Page.